We Go Play Developmental Social Language Groups: Thursdays, January 18th through June 7th, 2018. 75 minute sessions from 3:30pm-4:45pm. Led by Speech/Language Pathologist, Addie Chan and Occupational Therapist, Laurena Davis.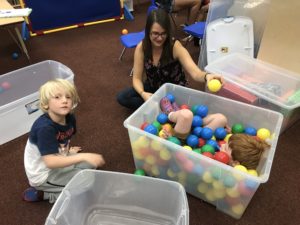 Our 3 inclusion groups are for children ages:
We offer social and language-based therapeutic playgroups with a low adult to child ratio for children with autism and other related developmental challenges.  These groups provide meaningful social and learning opportunities that strengthen each child's expressive and receptive language, and social communication. They also support expansion of play skills, increased problem solving and thinking capacities, and development of positive peer relationships in the context of a group experience.
Groups are tailored to the individual needs of its members, meaning that each group is slightly different, according to the interests, needs, and strengths of the children enrolled. Our groups embed a theme-based language-support system into all activities. Language/concept themes are woven into the stories, songs, art projects, play materials, toys, and props.
Our Philosophy:
Our programs provide developmental, relationship-based intervention, building on children's unique strengths and interests, to support development across social, emotional, communicative, and intellectual domains. Social interventions targeting joint attention and symbolic play improve not only play skills but also language outcomes for many children, particularly those on the autism spectrum. Wellspring social language groups address early social and communicative capacities including joint attention and symbolic play within the socially rich context of a therapeutic playgroup setting.
These groups include opportunities for child-led play with skilled adult facilitators, creative expression, and developmentally appropriate communication support. Interventions which provide for positive interactions, with different partners in natural environments and child-centered routines, are central to long term progress. Wellspring's developmental social-language groups support social communication in this context. Our intervention takes into account the complex range of challenges faced by children with special needs and/or alternative learning styles, and the importance of positive relationships in promoting social-emotional development.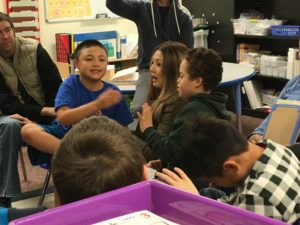 Primary goals for children participating in social language groups include:
Experiencing positive, meaningful social and learning experiences
Strengthening the child's communication, social problem solving, and abstract thinking capacities through interactions and peer relationships
Expanding play skills by building on the child's natural interests and strengths
Discovering common interests to forge peer relationships
Increasing flexibility and attention within a group setting
Increasing peer awareness and empathy
Family Participation:
Challenges with social communication and development of healthy relationships are among the top concerns of family members of children with autism spectrum disorders, as well as those with language delays and disorders. A secondary goal of our therapeutic playgroups is to help families to integrate goals and strategies from the group setting at home, therefore promoting skill building across contexts. Parents and caregivers (including grandparents, babysitters, etc.) are encouraged to participate in our groups to observe strategies and practice social facilitation with support from group leaders.
Daily Schedule of Activities:
Free play (access to playground and bike area with facilitation of social interaction and communication based on child-initiated ideas and interests)
Circle Time (greeting song, theme-based story and music, overview of day's activities, small group "break out")
Theme-based art activity
Facilitated free play with access to toys/props/materials based on current theme to promote the development of symbolic play capacities;
Hands on cooking activity / snack time
Closing Circle (including theme-based stories, group games, and
Please email office@wellspringeducation.org for information about our schedule.