Sam Zavaleta from Zavaleta Studios is now leading small group and individual music sessions on site at Wellspring on Tuesday afternoons.
Sam is a percussionist, composer and teacher who is deeply committed to creating and sharing the magic of music with children, teens and adults. He has a wide range of musical talents from drumming to percussion to on-stage performances.
As a musician, he has performed alongside Xalapa Percussion Ensemble, Villalobos Brothers, Dan Zanes, National Dance Institute, Calpulli Mexican Dance and Dolli Parton. To him, music is a central part of human creativity, community and culture. With his passion for creating music stemming from a love of instrumental traditions, Mexican instruments and sonic practices from all over the world, Sam believes it is never too early, and it is never too late to begin a musical journey!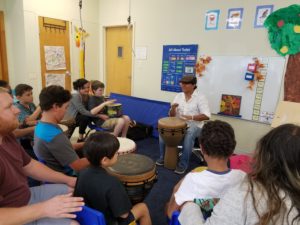 Schedule:
Tuesdays Only
3:45pm and 4:15pm (30-minute sessions)
Starts January 16, 2018
20 group sessions for $560
Please inquire with office@wellspringeducation.org to determine the best group match for your child.
Please inquire with Zavaleta Studios to schedule an assessment for 1:1 music class with your child
The video below showing Sam leading a music class gives great insight into the type of music instruction designed for children with special needs.