Chrissy D'Agostino, MA is an Educational Consultant specializing in work with both young children and pre – adolescents in home, school, and community based settings.  Since 2012 she has continued to build our renowned pre-school program, offering integrative early intervention approaches for both children and their families.
She completed her MA in Special Education and holds a teaching credential in Early Childhood Special Education, and is currently working towards completion of her DIR®/Floortime certificate.
Chrissy works with families and school programs seeking to deepen their understanding of developmental and relationship – based intervention and parenting.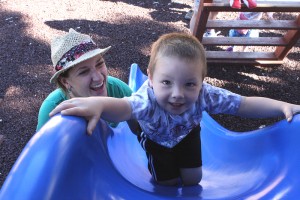 Her passions include facilitating social communication and supporting children in developing tools for self regulation as a means to more fully access their peers and social environment.
Chrissy also has a personal interest in autism as she grew up with a sibling on the autism spectrum.
Email Chrissy: